Ok so I think I have sorted some pics after a struggle with a wriggly playful pup!
Left hock
Inside left hock
Front of belly and front 'armpits' (looks a bad picture
)
He has always been bald here with no fur as he has also around his genital area.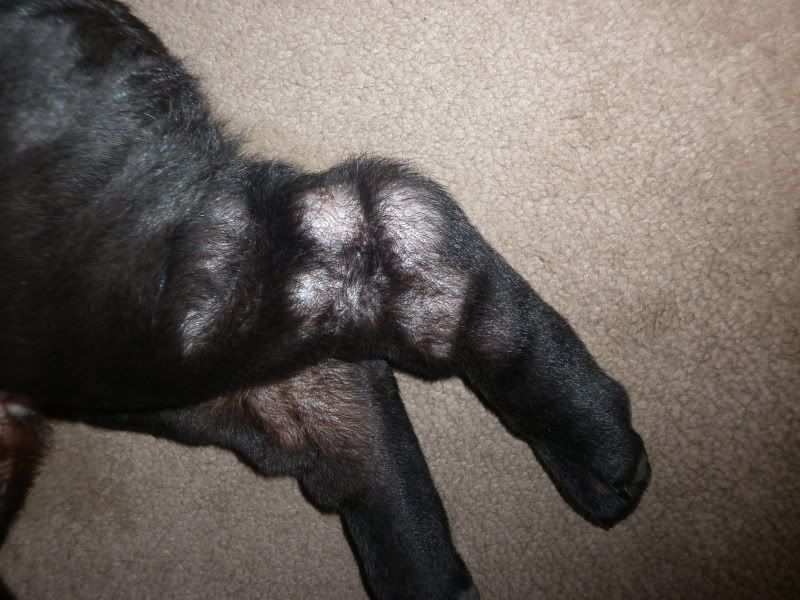 Another left hock shot.
And a cute one just for good measure!
As you can see it isnt red, up close (my camera isn't good so couldn't take up close) It is slightly dotty in places and some parts look very very slighty scabby. He is itchy alot of the time, i have only bathed him once with shampoo which is specifically for sensitive pups. He is fed as said, on dry biscuits chicken flavour of a hypoallergenic nature. He has no tip bits just hypoallergenic treats.
He is fine in himself just very very itchy and scratchy alot of the time. Although when out walking he does not bother to scratch or itch...his eyes are a bit runny but no discharge just watery. No sneezing just a white snot forms on his nose when out walking?
The vet is not a shar-pei specialist as I am aware but prescribed him with Piriton, she did not skin scrape but advised that if no better in a few days with the tablets them to take him back for a scrape. I orginally thought mange but when we cut the grass he later in the evening all of a sudden got a swollen eye lid and was scratching that area so we bathed him in water for relief.
Hope these pics are ok, as I said before any help is appreciated from me and Kong. I amm willing to try anything, homepathic or recommendations for feeding, bathing, prevention etc.
Thanks