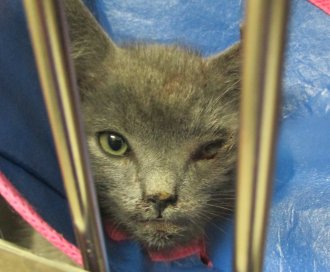 Dickenson: 2 months old
Broken lower jaw, other various injuries
Dickenson is in need of a bright new start! As a young kitten, he had rocky start when a pup decided that he resembled a chew toy just a little too well. After receiving care at the shelter, he, much like his favorite artist Kanye West, recorded his first album (titled, "The purrs of life") with his jaw wired shut. Don't be fooled by this set back, because this kitten is one playful dude who loves to romp around! He has recovered well and is behaving just as any normal kitten would, so he needs to go to a home with toys, time, and lots of love! Dickenson can't wait to see what life holds for him!
Adopted 11/21/15
Cowboy: 8 yrs old
Abscess repair
Cowboy is an adventure seeking playmate. Don't let his age fool you! He is frisky and full of life when you get out a string toy or a mouse to toss around. After playtime he enjoys the sounds and smells of the world while gazing out the window.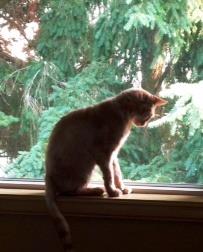 Cowboy does not enjoy the company of dogs or other cats so he would need to go to a canine and feline free home. Come meet this affectionate and lively lad today! Medical info: Cowboy came to the shelter with a very large abscess on his side. He underwent surgery and has responded very well to treatment.
Available for adoption
Leeloo: 3 yrs old
Entropion: (The infolding of the margin of an eyelid)
Leeloo is a special kind of Shar-Pei, a Bone-Mouth Shar-Pei! This breed has many distinct characteristics and health issues so this unique lady is looking for a forever family that has experience owning Shar-Pei. She loves every person she meets.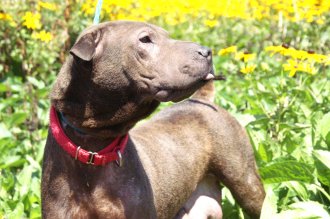 Leeloo likes to go on walks and loves attention! She would like to meet any canine resident before adoption and a feline free home is a must. Medical info: Leeloo is being treated for a mild skin infection, and also had bilateral (both side) entropion surgically repaired while sedated for her spay. Please see included information on Entropion as well as some additional information on the special care needed for Shar-Peis.
Adopted 9/17/15
Bruiser: 4 yrs old
Senior screen: Underactive Thyroid
Bruiser is in rough shape right now but he is getting better every day with his thyroid meds. He has lived with kids, cats and other dogs. Bruiser has spent a lot of time outdoors and is ready to come inside and be part of the family. Medical info: Bruiser has an underactive thyroid gland, and will be on a life-long prescription medication. Your veterinarian will run a blood test every 6-12 months to make sure Bruiser doesn't need his medication dose adjusted.
YOU MIGHT ALSO LIKE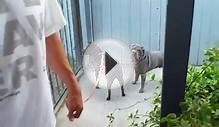 Shar Pei Puzzy & Wrinkles Go For a Walk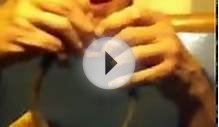 Shar Pei Reindeer!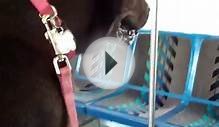 Puzzy the Shar Pei Loves to Ride the Bus
Share this Post