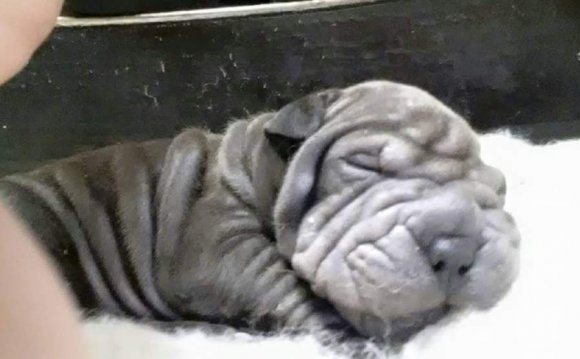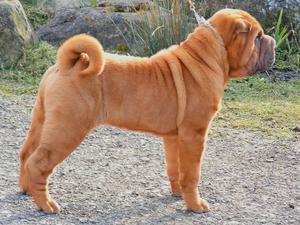 History
The Shar Pei breed comes from the Guangdong province of China. The original Shar-Pei from China looked very different from the breed now popular in the West.
Pictures on pottery suggest the breed was present even in the Han Dynasty (206 BC). For many years, the Shar-Pei was kept as a general-purpose farm dog in the Chinese countryside, used for hunting, protecting and herding stock and guarding the home and family. During that time, the Shar-Pei was bred for intelligence, strength and scowling face. Later, it was used for dog fighting. The loose skin and extremely prickly coat were developed originally to help the Shar Pei fend off wild boar, as they were used to hunt. The Shar-Pei's most intriguing feature, in this respect, is that if one grabs them by any loose wrinkle, they can actually twist in their skin and face in one's direction. This trait was used in fighting as a means for them to fight back; they would be bitten and twist in their skin to bite back at the offender.
During the Communist Revolution, when the Shar Pei population dwindled dramatically, dogs were rescued by a Hong Kong businessman named Matgo Law, who appealed to Americans in 1973 through a dog magazine to save the breed. Around 200 Shar-Peis were smuggled into America. The current American Shar Pei population stems mainly from these original 200.
DNA analysis has concluded that the Shar Pei is one of the most ancient dog breeds.
Characteristics
The Shar Pei is often suspicious of strangers, which pertains to their origin as a guard dog. In general, the breed has proved itself to be a loving, devoted family dog. They are also a very independent and reserved breed. Nevertheless, the Shar Pei is extremely devoted, loyal and affectionate to its family and is amenable to accepting strangers, given time and proper introduction at a young age. If poorly socialized or trained, it can become especially territorial and aggressive. Even friendly and well-socialized individuals will retain the breeds watch dog proclivities (such as barking at strangers). It is a largely silent breed, barking only when playing or when worried.
The Shar Pei were originally bred as palace guards in China. This breed is also very protective of its home and family, a powerful dog that is willing to guard its family members. The breed is amenable to training but can get bored from repetition.
Overall, the Shar Pei is a dog that is loyal and loving to its family while being very protective and independent.
Health
Allergy-induced skin infections can be a problem in this breed, caused by poorly selected breeding stock. This has become rarer over the years with responsible breeders and lines.
Familial Shar Pei fever (FSF) is a serious congenital disease that causes short fevers lasting up to 24 hours, usually accompanied by accumulation of fluid around the ankles (called Swollen Hock Syndrome). These fevers may or may not recur at more frequent intervals and become more intense.
Amyloidosis, a long-term condition, is most likely related to FSF, caused by unprocessed amyloid proteins depositing in the organs, most often in the kidneys or liver, leading eventually to renal failure. There is no early test for FSF, but as it is congenital, the dog is either born with it or without it, and if one attack occurs (usually brought on by excessive emotional or physical stress), the dog will always be susceptible to another. With proper care, a Shar-Pei with FSF can live a completely normal and long life.
YOU MIGHT ALSO LIKE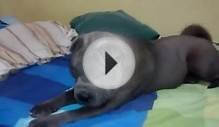 Shar Pei Azul Monta Peru 01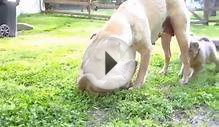 Shar Pei 2nd litter puppies first venture outdoors.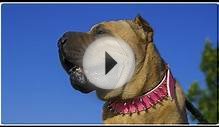 Gorgeous Shar Pei wearing Pink Rose Leather Dog Collar ...
Share this Post