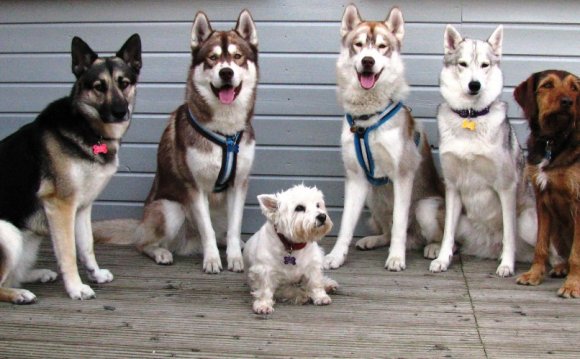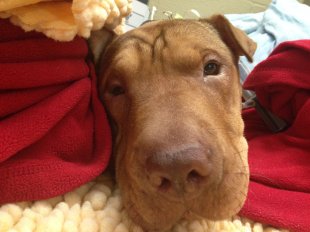 Preece is a sweet young Shar Pei mix who was brought to the MaxFund clinic by his owner. He was unable to move. It was clear that his medical care would be extensive and expensive, and his owner was unable to pay for it. MaxFund agreed to allow Preece to be relinquished to MaxFund's care. We are now doing everything we can to give Preece his mobility. His life. A future. It is going to be an expensive journey. But what he needs now, more than anything, is a foster home. We're not going to sugar-coat it: Preece needs a lot of care. Taking him home will be a labor of love. But Preece will return that love to you a thousand times over.
Preece's condition was a mystery and still is as far as the WHY it happened. His owner reported that he'd not been well with a "tense belly" and diarrhea, and had a seizure the night before he was relinquished to MaxFund. The exam and blood work at the MaxFund clinic did not provide any clues to Preece's condition. Dr. Suro (MaxFund co-founder and medical director) noted in his neuro exam that Preece did react when his toes were pinched. A little light in the darkness!
But we knew that if this kid had a chance at all, he would need a specialist. He was immediately sent to VRCC, a specialty hospital in Englewood, to have a neurology consultation with Dr. Lane. An MRI revealed that Preece had a blood clot in his spine from unknown causes. This is unusual - not unheard of, but extremely unusual. He underwent surgery to remove the clot in his spine that was pressing on his spinal cord and causing his paralysis. The removal of the clot was the only option if he was going to recover and ever gain mobility for the quality of life needed. There were no guarantees, but it was that or death. His surgery took place last month. This was his holiday gift indeed.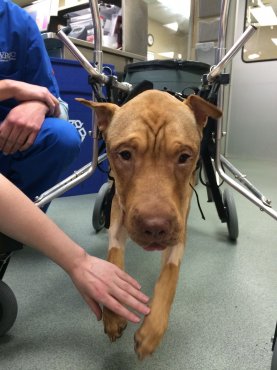 He is doing extremely well, and even though he is still not ambulatory, major improvements are seen daily. He's a big boy. At 8 months old, he's already 50 pounds (and counting now that he's come back from the brink), so regaining mobility is a must. His treatment plan includes daily physical therapy. Swims at CRCG are also prescribed. He's not mobile yet, but is learning to get around in a cart.
Preece would love a home with other dogs who can encourage him and set an example for him ("I want to do that!"). He gets along fabulously with other nice dogs. Dr. Suro describes him as a "big, nice Shar Pei." His owner reported that he is good with both dogs and cats, very house-trained, and well-trained generally. He's going to be a wonderful companion to some lucky person or family that knows and loves this special breed. VRCC's neuro department reports he is just gleeful with little dogs!
Do you have the time, space, and energy to help this great boy? MaxFund would cover all of his medical needs and continue to be responsible for his medical expenses. But Preece needs a home, and the love and dedication of a committed person or family, in order to continue to get better. Please call Heidi Hahn at the MaxFund Wellness Center (303-595-0532) if you might be that person.
hangsen electronic cigarette liquid
Share this Post