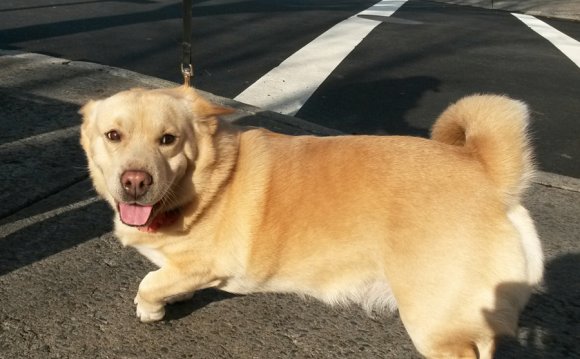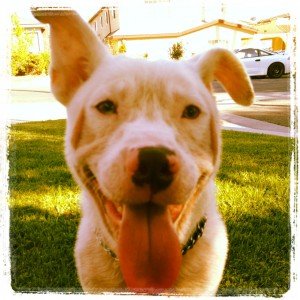 This is AYLA, a Corgi/Shar-Pei Mix rescued from the North Central Animal shelter on Sunday 07/29/12.
I went to the shelter on Friday to take pictures of adoptable dogs — I know that the North Central Shelter doesn't get a lot of public attention when it comes to pictures and networking the dogs. Since I live close to the facility, I made this city shelter my new project.
At the shelter, I started handing out my little treats, one after another, to these adorable dogs, small, medium, big. After walking through every single kennel, I discovered this little, super-funny looking white dog, yelping for attention. I kneeled down to see what type of dog she is… and I just saw a very funny-looking dog. She immediately pressed her body against the bars trying to lick my fingers, so I passed her some of the juicy treats I had brought with me and realized that something was wrong with her skin. I asked one of the kennel volunteers to take her out, so I could take pictures of the dog without the bars in front of her face.
Her name on her ID card was "Gretta." I did not like it, and I named her AYLA. I already committed myself to this dog by giving her this new name, I knew it, but tried not believe it. She was hyper, jumping, running and trying to get out of the kennel area. I really liked this dog and she reminded me of our French Bulldog – very silly. I took a few pictures and asked questions.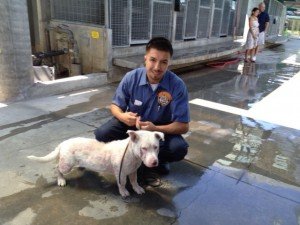 I know the staff isn't really informed about the dogs and barely know anything about them, but I liked the guy who showed me the dog, a very friendly volunteer. Her kennel card said, "Found as a stray, came in microchipped and spayed in July." Nobody claimed her of course.
A Corgi/Shar-Pei mix? Indeed she had the shape of a Corgi, but she looked more like a Pittie/Husky mix to me. We played a little and I petted her dull fur. Half of her coat was already gone and you could see the pink skin. All itchy, dry and red. She had a serious demodex mange going on and smelled really bad.
After 20 minutes with AYLA I left the shelter with my pics and I tried to get her out of my head… NOPE, did not work. The next day I visited her again. I wanted to know if I could put a hold on her for a few days, and try to find a boarding facility before taking her home. They said they wouldn't take holds but they would give me 24 hours before putting her down. She was on "the list, " one of the first ones who would get killed, because she is a medical case.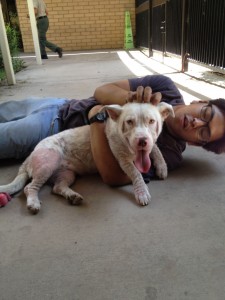 I talked to my husband and we got her out on Sunday morning before I left to go to work. With the help of my friend Ingrid, I was able to place her at Pacific Coast Dog Rescue until I could get her to the vet for an exam and start treating her skin condition. She was in our care, our responsibility and I was happy. Happy for this little silly dog, and that she made it. AYLA. We visited the vet, she got her bath and her first treatment. After the vet visit, we walked through the neighborhoods and I tried to take some more pictures of her clean fur.
After 5 days of boarding we picked her up today to ease her into her new home with her new foster family (us) and her new friends Lilly and Red. She is sitting in her crate and watching us closely. After a while of whining she relaxed and fell asleep.
Please follow Ayla's healing process and apply for her if you think that you are the perfect match. She needs medical care for her skin condition. We are covering her medical bills right now. We started the treatment and the new family needs to continue until she completely heals.
YOU MIGHT ALSO LIKE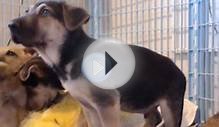 German Shepard / Shar Pei Puppy Cam! Watch Live on ...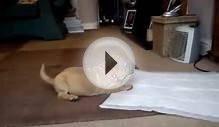 millie the shar pei / corgi vs dusty the hamster
Share this Post