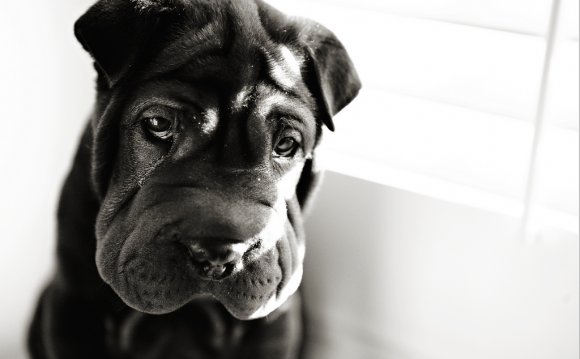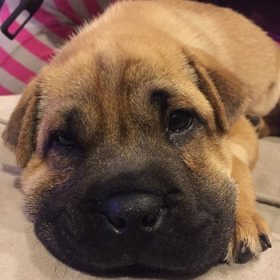 Ten-week-old Nelson, a Sharpei-Pug was purchased by a family online in November. The puppy made the 1, 300 mile and 20 hour trip from Missouri to Massachusetts by truck; by the time he arrived he was critically ill and required emergency surgery at the MSPCA's Angell Animal Medical Center in Boston.
MSPCA
When he arrived, Nelson was critically ill with Giardia, an intestinal illness causing severe dehydration, vomiting and diarrhea. In an emergency operation, veterinary surgeons removed a large portion of his intestines and then had to re-position and re-insert them into his tiny abdomen. The puppy has been recuperating at a foster home, and while he needs another week or so of rest, the MSPCA reports a tremendous interest in adopting the adorable little pooch.
Would-be adopters should come to the MSPCA-Angell at 350 S. Huntington Avenue in Boston between the hours of 2:00 p.m. and 6:00 p.m. tomorrow (Thursday) or Friday, Dec. 18 to fill out an application and speak with a counselor. Specific questions about him can be directed to adoption@mspca.org in the interim. And now for a little about Nelson's personality; according to his foster family, this friendly little guy adores other dogs and would do very well in a home with another dog—or even a cat. He is friendly and social, and will likely become even more so as he continues to recover.
Please remember, as adorable as this puppy is and as cute as he appeared online, this is the plight of puppy mill dogs. The family who purchased Nelson online surrendered him to the MSPCA because they could not afford the expensive medical care he needed to survive. Sadly, how many other puppy mill dogs die? It's practically a guarantee that cute little puppy in the pet store window is a product of a puppy mill where care is minimal, and the only factor is the profit to be made. Adopt and don't shop; save a life today.
The MSPCA-Angell's three state-wide animal care and adoption centers take in, and place into new homes, thousands of homeless dogs, cats and other animals every year. Nelson represents just one of the many animals who arrive every day—and whose futures are brighter as a result of the care they receive. Readers can contribute directly toward the care of these animals by clicking here.
YOU MIGHT ALSO LIKE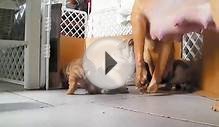 sharpei puppy dog baby pug
pytheas & kleio "the sharpeis" In park V , gstar Gismo the Pug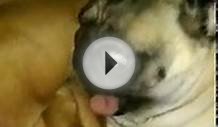 CRAZY PUG ATTACKS SHAR PEI PUPPY
Share this Post