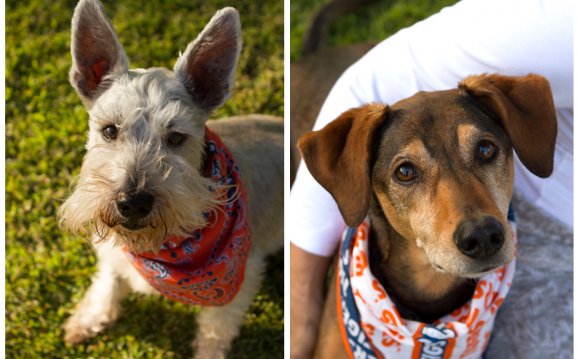 A 501(c)(3) Non-Profit Organization Back to Home Page
A Big Thank You to Our Rescue Angels ~ We couldn't do it without you!
Almost Heaven's Adoptable & Resident Dogs

12 Nov 2015 ~ Question: Is AHGRRS going out of business? Answer: No, AHGRRS is NOT closing its Doors. Although a different rescue with a similar name has decided to close. AHGRRS has been saving lives since 2002 and plans to continue accepting as many orphan dogs - as space and finances allow.
Your donations will help keep our doors open to those who need us most. We have Adoptable Dogs (click HERE) in need of homes and many permanent residents who will never know the joy of living in a family environment because they are so damaged, old, or sick that they are best suited to living out their lives with us - here at the Sanctuary. Please consider giving a homeless dog a home.
Let us know via email if there is a dog listed that you would like to offer a forever home. If we think you are a good match for that adoptable animal, we will ask you to submit a completed application.

Please, we request that you don't call us until you have an approved application on file, as it is a volunteer owned phone. Calls will be answered when possible. For the fastest response, please email us.

Dogs adopted from Almost Heaven Golden Retriever Rescue & Sanctuary are eligible for 30-Days of PetFirst health insurance for your pet
courtesy of Petfinder.com.
Chappie - Male, Golden Retriever Mix
15 month old Chappie came to us after his third set of owners gave up on him. We have been told Chappie can become territorial - and that he has bitten a child (although we do not have any proof or details of the incident). Chappie is so young we decided he deserved a chance. His owner reported he was purebred, although, once again, we have no proof. What we do know is Chappie has been extremely well behaved here; has shown no sign of any type of aggression or territorial staking; and he loves playing with all our other residents. However, due to what we were told about Chappie's past, we will NOT place him in a home with exposure to children, and he must be placed with very experienced dog owners. He's a great dog that deserves the right home.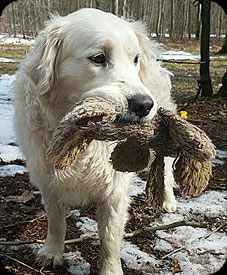 Ajax - Male, Golden Retriever Mix
3 - 4 year old Ajax is looking for a new home because his owner was just too ill to take care of him any more. Ajax is a gorgeous dog - inside and out. Ajax is neutered, heartworm negative (and on preventative), and his vaccinations are up to date. Ajax enjoys the company of other dogs, and really doesn't care one way or another about kitties. He's simply a nice boy.
Orion - Male, Golden Retriever Mix
8 year old Orion's owner became too ill to care for him so he is looking for a new home. Orion is totally crate trained, neutered, up to date with vaccinations, and heartworm negative and on preventative. In addition, Orion enjoys the company of other dogs, is mild mannered, and has a strong desire to please. He's a very sweet gentleman - and would be an asset to any adopter lucky enough to adopt him.
Milo - Male, Golden Retriever Mix
1-2 year old Milo had a hard life prior to his arrival as he lived with a person who simply had more animals than he could care for properly. And, somewhere, somehow, Milo suffered an injury to his eye - now beyond treatment - but it doesn't seem to bother him one bit. Milo is one of the happiest dogs we've had here in a long time. He's very easy going, gets along with every other dog, and craves human attention and love. We do feel he would do best in a home with at least one other dog as he seems to crave and thrive on canine companionship. He will make some lucky adopter a very happy person.
Lula- Female, Labrador Retriever/Shar Pei Mix
5 year old Lula lost her home through no fault of her own. Her owner simply could not care for her and Georgia Peaches any more. Lula is adorable - pictures do not do her justice. She and Georgia Peaches have been lifelong companions, and we would really like to find them a home where they can remain together (if at all possible) - but we think Lula would do just fine as long as her new home has another other canine companion for her.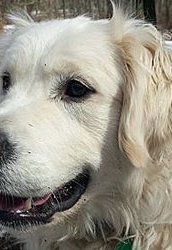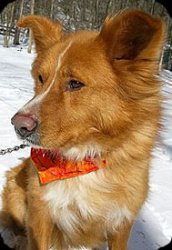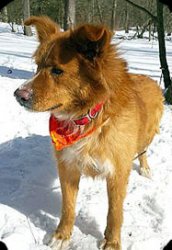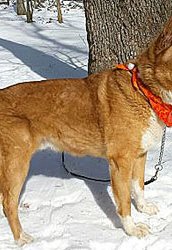 new website http://industry-portal24.ru/
YOU MIGHT ALSO LIKE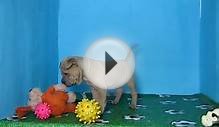 Shar Pei Macho STA REF:113 10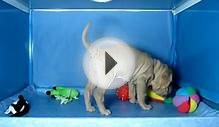 Shar Pei Macho COV REF:145 24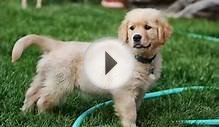 Golden Retriever - Mascotas
Share this Post