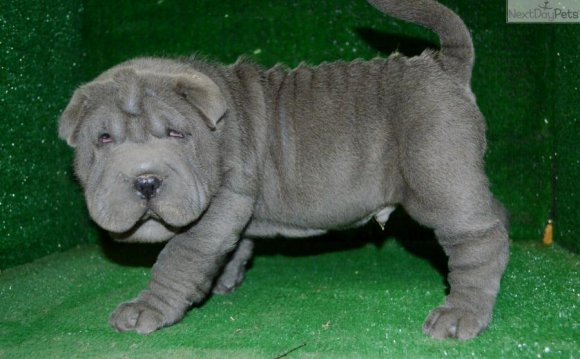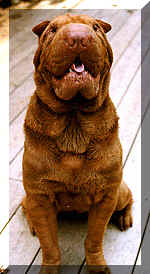 Bubba came to us when he was four months in March of 1993, a rescue. The young woman that had bought him had lost her job, apartment and boyfriend. She had taken the pup to her mother's but, he was relegated to the backyard on a chain. The family dog resented him being there and the woman's mother had no patience for a pup. We met the young woman and her mother at a truck stop and examined the pup. I found it hard to believe that he was only 4 months as he was huge.
His papers, however, confirmed that he was, in fact, only 4 months old. We were informed that his breeder had stated he was show quality. One look at his gait and bite told us that someone got sold a bill of goods. He was, however, a big lover, and we decided to rescue him and place him in a good pet home. We were told his name was "Scottie." Once we had left with the dog I told my wife, Lois that this was no "Scottie." This in fact was a "Bubba" if I ever saw one.
The name stayed with him and, after 24 hours with us, he did as well.
Shar-Pei in our area were not on the top of the hit parade with the local vets but, one visit with Bubba made ours reconsider. He was a real charmer and something told me that we had a very special dog. Lois would take him to her grooming shop daily where he would greet customers and of course was exposed to a wide variety of dogs and cats. When the holidays arrived she adorned him in a Santa suit complete with hat which he happily wore. Everyone loved his wonderful personality and many had pictures taken with them and "Santa Paws"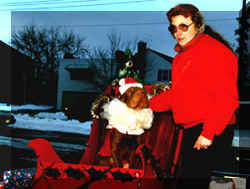 Lois and "Santa Paws" at a Christmas Parade
About two weeks before Christmas one of our old customers, who volunteered to ring the bell for the Salvation Army, asked if he could take Bubba to his corner one night. Bubba went happily with Leo and when I went by to check on him was astonished at the crowd that had gathered. The crowd was so thick that I could only hear the familiar sounds of that bell and could not see Bubba through the throng of people. Later when Leo returned Bubba he happily informed me that Bubba had "filled the Pot." A star was born and a Christmas legend as well. Bubba returned for five years to "his corner" to do his part and was eagerly awaited for by all the shoppers. Shortly after Bubba's first "appearance" we received a call from one of his "fans" who worked at a local nursing home. She asked if he would be available to visit some of the patients at Christmas as it would mean a lot to many of the residents. At that time dogs in hospital facilities had never been done in this area. One visit, with theadministrator convinced him that this was probably a pretty good idea.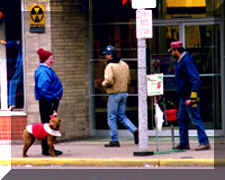 Leo and Bubba on His Corner
On Christmas Eve Bubba made his first "therapy" visit. During this visit Bubba was taken to meet patients that the nurses thought would appreciate a dog. During our rounds Bubba was determined to visit a older gentleman in a wheel chair sitting in a corner of the recreation room. He pulled on the lead heading in his direction. The nurse stated that the gentleman wouldn't even know that Bubba was there and that he hadn't spoken or communicated in any way in months. Still, Bubba insisted and I allowed him to approach the man. He went up and gently laid his huge head on the man's lap. A minute or two later the gentleman's hand came up and he put it on Bubba's head. He looked at the dog and then at us and suddenly began talking about a dog he used to have as a young man. The nurse was so astonished she went for her supervisor. The conversation continued for over 20 minutes all the while his hand never left Bubba's head and Bubba's head never left his lap. Little did any of us know that this would be the gentleman's final words. He passed away two weeks later. For many years, Bubba still looked in that corner for the gentleman on each visit.
Obviously, this first visit was a huge success. So much a success that a story in the local newspaper brought many calls to inquire how their dog could participate.
Bubba sure knows how to make the ladies smile.
It was because of these calls that "Lake Superior Paws For Love, Inc." was born. The group now boasts over 20 registered dogs and cats who make regular visits to the areas many nursing homes, mental hospitals, schools and other facilities that would benefit from the animals. The group which celebrated its 7th birthday this past Christmas has also founded the immensely successful Pet Expo. Bubba was the spark that ignited this movement which has led to greater awareness of the power of the companion animal, not only in therapy settings but in education. An indirect result is the local animal shelter was completely restructured and several "Paws" members are now on the board of directors. Task forces were organized to re-think the stray animals situation and the proper care of them. As a result the shelter went from a money loosing, unsanitary and underfunded operation to a well organized and efficient animal welfare league. It all started with Bubba.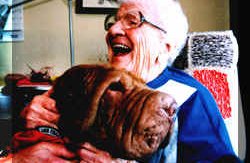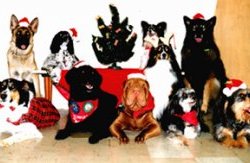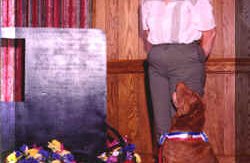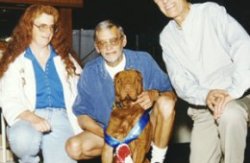 YOU MIGHT ALSO LIKE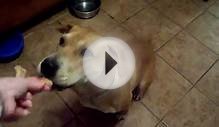 Meet Sheri a Chinese Shar-Pei currently available for ...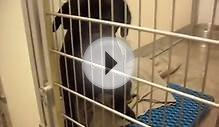 Meet Princess a Chinese Shar-Pei currently available for ...
Share this Post